Find safe stocks, avoid risky stocks, and become a confident investor in 14 days or less.
Yes, I want a free trial

  No credit card required


  Free for 14 days


  Cancel at any time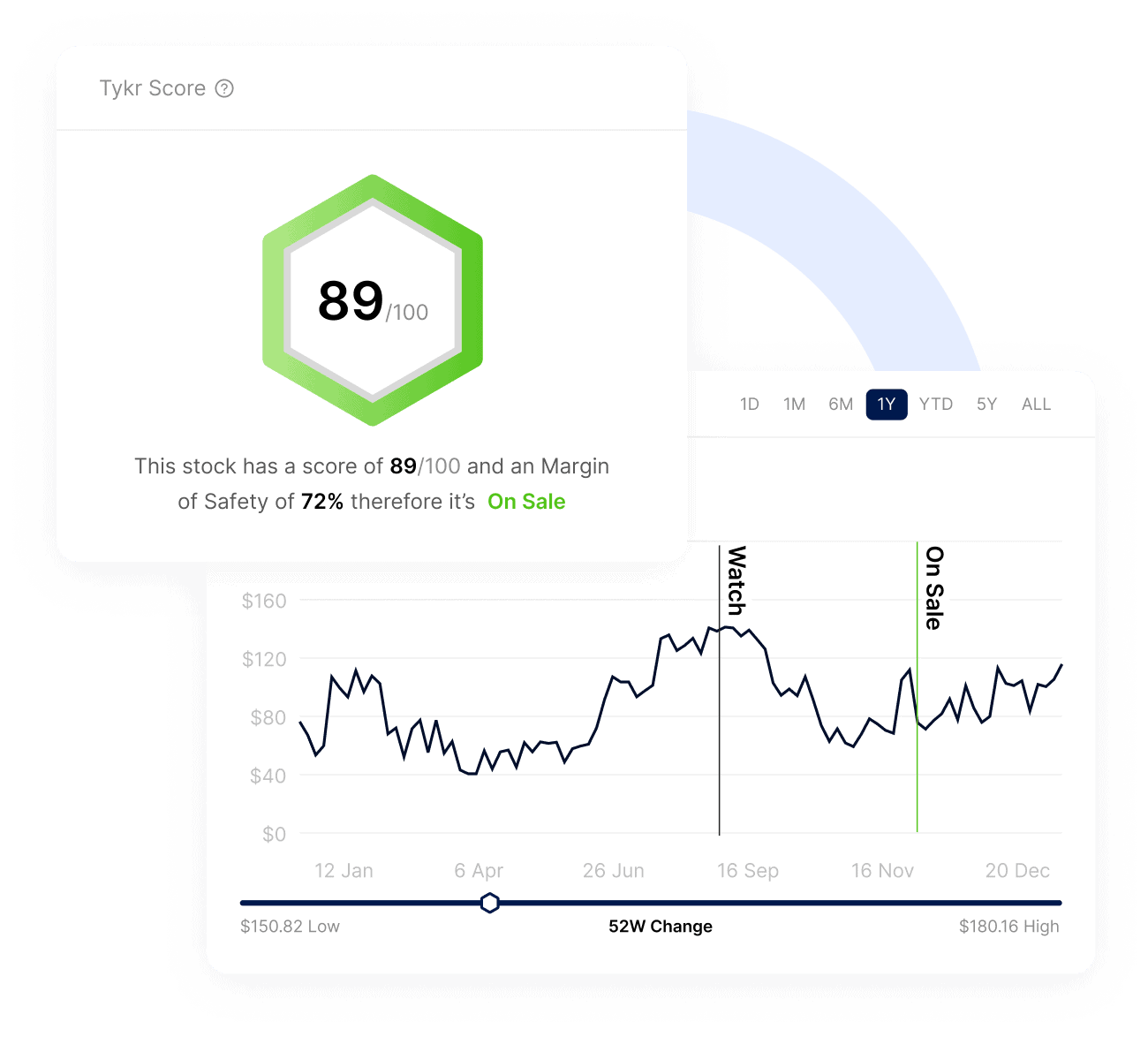 Stocks
Over 30,000 US and International Stocks
Crypto
Over 1,800 cryptocurrencies
Investing Education
Step-by-Step instructions
Summary
A stock is either On Sale (potential buy), Watch, or Overpriced (potential sell). The summary within Tykr is simply a result of the hard work Tykr does behind the scenes for you and I. A rigorous algorithm makes your investment journey easier.
Score
The higher the score, the safer the investment. The maximum score a stock can achieve within Tykr is 100. The score within Tykr determines the overall financial strength of a stock.
Increase your returns in the market
The higher the Margin of Safety (MOS), the higher potential returns you can earn. The MOS is the difference between the Share Price and the Sticker Price. We like to see a MOS greater or equal than 50%.
Why? - that's the right question
If someone tells you to buy a stock, the last thing you should do is buy that stock. The first thing you should do is ask why. Tykr has an easy to understand rating system that clearly informs you on why a stock is rated On Sale (potential buy), Watch, or Overpriced (potential sell). This not only gives you the confidence to move forward but also positions you as the expert when you share this knowledge with family, friends, and other investors.
Save Time
Analyzing a stock manually can require hours (if not days). Tykr reduces that time down to seconds so you can get back to enjoying life! Smart investors know the best way to build wealth is by letting money work for us. Let the power of compound interest do the heavy lifting.
Reduce Risk
You may be curious to know where you start, right? Maybe the news? Maybe a Youtube influencer? Maybe a friend? Tykr is powered by a highly rigorous (and transparent) algorithm. You can see the calculations that drive the algorithm, on the Support Site. This algorithm does the difficult math equations for you and I so we can understand if a business is financially strong (or weak). This helps you quickly understand if a stock is high or low risk.
30,000+ US and International Stocks
Tykr is continuing to add more stocks to serve more customers around the globe. The countries found on Tykr at the moment include but are not limited to the UK, US, Canada, Germany, Switzerland, France, Austria, China, Hong Kong, and India.
Simple Language
Do you feel like finance and investing is unapproachable? Don't worry, you're not alone. That's why we place a strong emphasis on education and language. We try our best to simplify and spell out investment terms and phrases, to make investing easier to understand. No longer do you have to feel like you're reading a foreign language or walking into a confusing conversation.
Simplified Education
In our opinion, Tykr is the best place to start. Yes, Tykr is a powerful stock screener that saves time and reduces risk but the educational material is a key component of the platform. In order to make intelligent investing decisions, it's important to know what you're doing. That's why we organized educational material that is fast and easy to digest. We know your time is valuable which is why we stripped out the fluff and organized the absolute most high quality and actionable information to help you move forward with confidence.
We're With You Every Step
Do you feel like you're alone on your investing journey? Relax and breathe easy, we got your back! Our team is highly engaged and supportive as our goal is to make your investment journey as easy (and fun) as possible. If you have questions you can email our customer support and we'll get back to you within 24 – 48 hours (Monday – Friday). We also have a detailed support site and a highly engaged Facebook community. If you want questions answered from Sean directly, we do offer free webinars as well.
Since 2020, our product, services, and education have helped thousands of investors make better investment decisions.
Simplicity is important to us, so is our pricing
30,000+ stocks in countries including UK, US, Canada, Germany, Switzerland, France, Austria, Singapore, Indonesia, China, Hong Kong, and India.
2,000+ ETFs (Exchange Traded Funds are bundles of stocks).
Step-by-step onboarding teaches you when to buy, when to sell, and how to reduce risk.
Create your own watchlists to keep track of the stocks you are most interested in.
Get notified when stocks change between On Sale, Watch, and Overpriced. This helps you understand when to buy and sell.
Create portfolios and track the performance of your investments.
Set custom price alerts on stocks and crypto.
The "put our money where our mouth is feature". See the top 10 stocks in Sean Tepper's (CEO) portfolio.
Download data to CSV so you may run your own analysis.
Save time with a bulk CSV upload of stocks to your watchlists and portfolios.
Financials, news, earnings calendar, dividend calendar, ratios, holdings, executive compensation, analyst ratings, and more
Make notes on each stock you buy and sell. See how your actions in the past compare to the results of the future.
Friendly and helpful community
The Tykr community is here to help guide you along the way.
We believe in transparency. Our education section provides all the calculations used in Tykr. If you want, you may go create your own version of Tykr but we hope you stay with us. 😀
Yes, I want a free trial